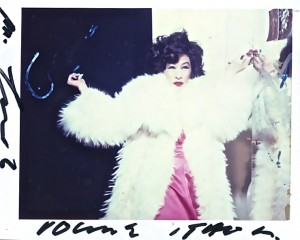 Email MARIA VERONICA lanoveaunee@hotmail.com
Veronica Leon vient et complète la lignée. Elle appartient à la famille des femmes qui apportèrent à l'histoire de l'art la om dont Maria Veronica Leon vient et complète la lignée. Elle appartient à la famille des femmes qui apportèrent à l'histoire de l'art la Veronica Leon vient et complète la lignée. Elle appartient à la famille des femmes qui apportèrent à l'histoire de l'art la om dont Maria Veronica 
MariaVeronica

MariaVeronica Leon is a multi-disciplinary artist born in Ecuador, living and working in United Arab Emirates. In 2015 she represented Ecuador at the 56th International Art Exhibition - la Biennale di Venezia, developing successfully Ecuador's official contribution to La Biennale with the exhibition "Gold Water: Apocalyptic Black Mirrors". In 2O16 after the invitation of MACRO, Museum of Contemporary Art in Rome, she became the first contemporary woman artist from Ecuador to have a solo show in a museum in Rome.

From 1998 to 2013 she lived and worked in Paris, first contemporary Ecuadorian woman artist to exhibit in a Parisian museum: Le Petit Palais (2008), invited for a solo show at the Galliera Museum Paris (2006), and selected for "La Nuit Blanche" by the Cultural Affairs Department of Paris (2004). In 2007 she was part of the 52nd Biennale di Venezia, IILA Latin-American Pavilion.

When she moved to Dubai in 2014, she became the first Latin American artist having a solo show in U.A.E.andbeingrepresentedbyaU.A.E.gallery,CubeArtsGallery,DIFC.In2017MariaVeronica hada solo show at Katara, Doha; and at the end of 2019 one at Sorbonne University in Abu Dhabi, "TASAAMU/Tolerance, The Perpetual Sense of Tolerance and Peace". Other exhibitions: Metropolitan Museum Quito (2013). Art Brussels; Chapiteau de Fontvielle in Monte Carlo; Cipriani New York (2012). Espace Beaujon Paris; Plaza Athenee Paris (2011). Spazio Thetis Venice (2010). Guanzhou Art Fair (2008). MAAC, Contemporary Art Museum Guayaquil (2005). Crystal Palace Guayaquil; Thuiller Gallery Paris (2003). Theatre de la Ville Paris (2002). Bill Tornade and Sylvie Rielle Paris (2000). Galerie de Nesle Paris (99). Her work was part of La Havana Biennial (97); Art Forum Quito (96); Quebec International Snow Sculpture Festival and British Council Quito (95). Beijing Latin American Art Festival (94).

As a multidisciplinary artist Maria Veronica has been working with a variety of techniques: drawing, painting, printmaking, video art, video installation, video-poetry, digital books, performance and photography. From her early years the artist has shown her extraordinary talent also in portraiture and self-portraiture. She made portraits of prominent figures like Bjork, Isabelle Adjani, Pina Bausch, Louise Bourgeois, Dominique Mercy, Placido Domingo, Julie Stanzak, Helena Pikon, Bill Clinton, Sheikha Moza bint Nasser, and diverse Ecuadorian, Latin American, European and now Middle Eastern personalities.
In Ecuador, she worked with "La Galeria" in Quito and Madeleine Hollaender in Guayaquil (95/98). She graduated from the School of Fine Arts in Quito (91-96), painting and printing specialization; where she was as well Dean Assistant of Printing Department at the same university. In 1996 Guayasamin invited her to work with him in "La Capilla del Hombre", Quito (murals paintings). Maria Veronica Leon is one of today's most dynamic artists from Latin America; her avant-garde work and life make of her a leading woman in the international contemporary art scene.
Mail: lanoveaunee@hotmail.com
 Web page: http://www.mariaveronicaworld.com/sorbonne-2019/ 

Facebook: mariaveronicaleonveintemilla
 Instagram: maria_veronica_leon_v
 Twitter: @MARIAVERONICAI
 MARIA VERONICA

 MARIA VERONICA
 MARIA VERONICA
 MARIA VERONICA
 MARIA VERONICA


 MARIA VERONICA
All textual and graphic content of www.mariaveronicaworld.com belong to MARIA VERONICA LEON VEINTEMILLA, site author. Any use or reproduction of images or texts without its agreement will be penalized. MARIA VERONICA
 MARIA VERONICA
COPYRIGHTS
The text, graphics and other contents of the site are the property of MARIA VERONICA LEON VEINTEMILLA and are they are protected by copyright laws. The use or reproduction, even partial of the text, photos or graphs it contains are formally prohibited
without previous written approval from MARIA VERONICA SA. Infringement is considered illicit copying. Are also considered as infringements: any reproduction, adaptation, translation or change in the content of the site as well as any transfer of the content to another site.
 MARIA VERONICA
PATENTS, TRADEMARKS 

Industrial trademarks
MARIA VERONICA SA is a registered trademark and its products, accessories and exclusive art worksare protected by the appropriate copyrights, patents and trademarks.
The different MARIA VERONICA SA models, drawings, art videos, digital photos, texts and graphs and the entire content of the site are the property of MARIA VERONICA SA and are protected by the appropriate copyrights, patents and trademarks.
Their reproduction, partially or entirely, without previous written permission of MARIA VERONICA SA or of its subsidiaries is forbidden.
 MARIA VERONICA
PRODUCT INFORMATION
Always attentive to keeping the quality of her work, MARIA VERONICA SA reserve the right, without prior notice, to discontinue any product presented on this site. All measurements listed on the site can vary by more or less 3%.
 MARIA VERONICA
PHOTO CREDITS
Photos published are copyrighted and belong to their respective owners.
This website, including its content and function, is provided "as is" to the fullest extent permitted by law. Accordingly, your use of this website is at your own risk.
 MARIA VERONICA
MARIA VERONICA SA makes no representation or warranty of any kind whatsoever as to the accuracy, merchantability, fitness for a particular purpose, or non-infringement of any content published on or available through this website.
MARIA VERONICA SA do not represent or warrant that the servers that make this website available to you are free of viruses or other items that may infect, harm,or cause damage to your computer equipment or any other property when you access, download from, or otherwise use the website. To the extent permitted by law, under no circumstance whatsoever shall MARIA VERONICA SA be liable for any consequential, incidental, direct, indirect, punitive or special damages related to your use of or inability to use this website or to any errors or omissions in the content function of this website. 


Because some jurisdictions do not allow exclusion or limitation of consequential or incidental damages, some or all of the preceding sentence may not apply to you.MARIA VERONICA SA  may revise, add to, or delete from these terms and conditions at any time without notice to you. Any changes to these terms and conditions apply as soon as they are posted on this website; by continuing to use this website after any such changes are posted, you signify your acceptance of the changes.
MARIA VERONICA SA as well reserves the right to revise, add to, or delete from the content and function of this website at any time without notice or liability to you. Your sending any message to MARIA VERONICA SA or its relating to or via this website does not cause MARIA VERONICA SA to have any responsibility or obligation to you.


NOTE: ALL USE OR REPRODUCTIONS FORBIDDEN WITHOUT PRIOR PERMISSION IN WRITING FROM MARIA VERONICA LEON VEINTEMILLA.
FOR OCASIONAL USE OF ANY IMAGE OF THIS SITE WITH ARTISTIC PROPOSALS , YOU COULD CONTACT MARIA VERONICA LEON V TO: 06 67 58 54 59 FROM FRANCE OU 00 33 6 67 58 54 59 FROM FOREIGN COUNTRIES, AND BY EMAIL: lanoveaunee@hotmail.com 
No Comments