CLICK IN THIS IMAGE TO OPEN MARIA VERONICA PRESS CATALOG!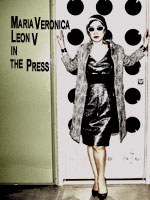 3.ZOOM IN THE PRESS RELEASES GALLERY OF MARIA VERONICA LEON V!
4.TAKE A LOOK AT MARIA VERONICA'S PRESS RELEASES !
– Click: Maria Veronica in the press (part 1)
– Click: Maria Veronica in the press (part 2)
TV INTERVIEWS
ARTE Y EMPRESA
Escrito por FIE – Noticias
domingo, 27 de enero de 2008
Los ecuatorianos tenemos la capacidad de destacarnos en cualquier sector si ponemos empeño y tesón, esto ocurre con la artista ecuatoriana Ma VERÓNICA LEÓN, quien está siendo reconocida internacionalmente con su obra, convirtiendo su arte en una próspera empresa. Para conversar sobre ARTE Y EMPRESA tenemos esta semana en BAJO LA LUPA, conducido por la Ing. Joyce de Ginatta, a la pintora Ma. Verónica León. Este programa de Bajo la Lupa se retransmitió en enero 27 de 2008 en el canal de cable CN3. Para ver el programa presione leer más.
PARTE 1
PARTE 2:
PARTE 3:
No Comments