NGDORNG[ODKFNBO[KXDFNBOKXNFGBOK[NXF[OKBNXFGNBO[KXFGNOK[XNG [OKX GN[OKXCG NOK[FXG NO[FG NO[ [FOXKG N[OKCG N[OKCG NO[KCG [OKC FNOK[C N[OKCF NO[KC NKO[ COK[C NGDORNG[ODKFNBO[KXDFNBOKXNFGBOK[NXF[OKBNXFGNBO[KXFGNOK[XNG [OKX 

N[OKCF NO[KC NKO[ COK[C NGDORNG[ODKFNBO[KXDFNBOKXNFGBOK[NXF[OKBNXFGNBO[KXFGNOK[XNG [OKX
NGDORNG[ODKFNBO[KXDFNBOKXNFGBOK[NXF[OKBNXFGNBO[KXFGNOK[XNG [OKX GN[OKXCG NOK[FXG NO[FG NO[ [FOXKG N[OKCG N[OKCG NO[KCG [OKC FNOK[C

NGDORNG[ODKFNBO[KXDFNBOKXNFGBOK[NXF[OKBNXFGNBO[KXFGNOK[XNG [OKX GN[OKXCG NOK[FXG NO[FG NO[ [FOXKG N[OKCG N[OKCG NO[KCG [OKC FNOK[C N[OKCF NO[KC NKO[ COK[C NGDORNG[ODKFNBO[KXDFNBOKXNFGBOK[NXF[OKBNXFGNBO[KXFGNOK[XNG [OKX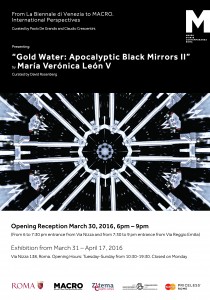 NGDORNG[ODKFNBO[KXDFNBOKXNFGBOK[NXF[OKBNXFGNBO[KXFGNOK[XNG [OKX GN[OKXCG NOK[FXG NO[FG NO[ [FOXKG N[OKCG N[OKCG NO[KCG [OKC FNOK[C 
NGDORNG[ODKFNBO[KXDFNBOKXNFGBOK[NXF[OKBNXFGNBO[KXFGNOK[XNG [OKX GN[OKXCG NOK[FXG NO[FG NO[ [FOXKG N[OKCG N[OKCG NO[KCG [OKC FNOK[C 
MARIA VERONICA SOLO EXHIBITION AT MACRO ROME/MUSEUM OF CONTEMPORARY ART IN ROME
NGDORNG[ODKFNBO[KXDFNBOKXNFGBOK[NXF[OKBNXFGNBO[KXFGNOK[XNG [OKX GN[OKXCG NOK[FXG NO[FG NO[ [FOXKG N[OKCG N[OKCG NO[KCG [OKC FNOK[C NGDORNG[O
Click MARIA VERONICA - MACRO Exhibition Catalogue
NGDORNG[ODKFNBO[KXDFNBOKXNFGBOK[NXF[OKBNXFGNBO[KXFGNOK[XNG [OKX GN[OKXCG NOK[FXG NO[FG NO[ [FOXKG N[OKCG N[OKCG NO[KCG [OKC FNOK[C NGDORNG[ODKFNBO[KXDFNBOKXNFGBOK[NXF[OKBNXFGNBO[KXFGNOK[XNG [OKX GN[OKXCG NOK[FXG NO[FG NO[ [FOXKG N[OKCG N[OKCG NO[KCG [OKC FNOK[C 

NGDORNG[ODKFNBO[KXDFNBOKXNFGBOK[NXF[OKBNXFGNBO[KXFGNOK[XNG [OKX GN[OKXCG NOK[FXG NO[FG NO[ [FOXKG N[OKCG N[OKCG NO[KCG [OKC FNOK[C 
NGDORNG[ODKFNBO[KXDFNBOKXNFGBOK[NXF[OKBNXFGNBO[KXFGNOK[XNG [OKX GN[OKXCG NOK[FXG NO[FG NO[ [FOXKG N[OKCG N[OKCG NO[KCG [OKC FNOK[C 
NGDORNG[ODKFNBO[KXDFNBOKXNFGBOK[NXF[OKBNXFGNBO[KXFGNOK[XNG [OKX GN[OKXCG NOK[FXG NO[FG NO[ [FOXKG N[OKCG N[OKCG NO[KCG [OKC FNOK[C
LA BIENNALE DI VENEZIA-56 INTERNATIONAL ART EXHIBITION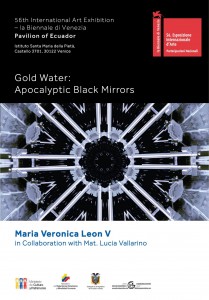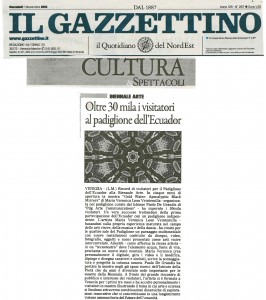 Press Release
 "Dark Blue Visions"
-Pavilion of Ecuador at Google Cultural Institute
-Google Cultural Institute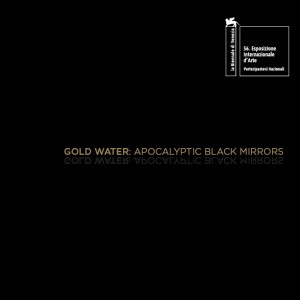 Different extracts of BLACK HOLES DEVOURING INDUSTRIAL NET
Click Catalogue: « GOLD WATER: APOCALYPTIC BLACK MIRRORS »
Click Video PAVILION OF ECUADOR/MARIA VERONICA WORK 
L'Or Blu
 MV Artworks for The Pavilion of Ecuador in La Biennale di Venezia
Universe in Universes
La Biennale di Venezia/National Participations
Maria Veronica
Visual Artist
María Verónica León Veintemilla represented her original country, Ecuador, at the 56th International Art Exhibition – la Biennale di Venezia. It is also thanks to the efforts of this artist that Ecuador introduced for the first time in History its own pavilion at La Biennale di Venezia, a milestone in the history of Ecuador. María Verónica León Veintemilla, a relevant artist for Ecuadorian Art History and one of today most dynamic artists from Latin America, developed successfully Ecuador's offcial contribution to the 56th International Art Exhibition with the exhibition "Gold Water: Apocalyptic Black Mirrors" supported by the Culture and Heritage Ministry of Ecuador, the Embassy of Ecuador in Rome and the Ministry of Foreign Affairs and Human Mobility of Ecuador.
María Verónica is a pluri-disciplinary artist born in 1971 in Guayaquil, Ecuador; she lives and works in Dubai, where she is the first Latin American artist to make a solo show in U.A.E. and to be represented by a gallery in Dubai, U.A.E. From 1998 to 2013 María Verónica lived and worked in Paris, where she became the first contemporary woman artist from Ecuador to exhibit in a French museum, Petit Palais/Museum of Fine Arts of Paris (2008). She was invited to make a solo exhibition at the Galliera Museum, Paris (2006) and selected by the Cultural Affairs Department of Paris for "La Nuit Blanche" (2004). María Verónica has also taken part in a number of other international exhibitions most importantly Art Brussels (2012); Chapiteau de Fontvieille, Monte Carlo (2012); Cipriani New York (2011); Plaza Athenee Paris (2011); Spazio Thetis (2010), Venice; Guangzhou Art Fair (2008); the 52nd International Art Exhibition – La Biennale di Venezia (Latin-American Pavilion IILA, 2007); Theatre de la Ville, Paris (2000); Sylvie Rielle, Paris; Galerie de Nesle, Paris; Bill Tornade, Paris (1999); La Havana Biennial (1997); Quebec International Snow Sculpture Festival (1995); Beijing Latin American Art Festival (1994). In Ecuador: Metropolitan Museum, Quito (2013); MAAC: Contemporary Art Museum, Guayaquil (2005); Crystal Palace, Guayaquil (2004), Municipal Museum, Guayaquil (2000), La Galeria (1998/1995), Madeleine Hollander Gallery Guayaquil (1998/1995), Art Forum Quito (1996), British Council Quito (1995), between others.
As a multidisciplinary artist María Verónica León Veintemilla has been working with a variety of techniques: drawing, painting, printmaking, video art, video installation, video-poetry, digital books, performance and photography. From her early years the artist has shown her extraordinary talent also in portraiture and self-portraiture. She made portraits of prominent gures like Bjork, Isabelle Adjani, Pina Bausch, Dominique Mercy, Julie Stanzak, Helena Pikon, Placido Domingo, Bill Clinton and diverse Ecuadorian, Latin American and European personalities. In Ecuador María Verónica worked with "La Galeria" in Quito (95/98) and Madeleine Hollaender in Guayaquil (95/98). In 1996 Guayasamin invited her to colaborate with him in murals paintings for "La Capilla del Hombre" in Quito. María Verónica attended the School of Fine Arts, Central University in Quito, Painting and Printing specialization , where she was also Dean Assistant of Printing Department.
Her life and avant-garde work make her a leading figure in the international contemporary art scene.
www.mariaveronicaworld.com
lanoveaunee@hotmail.com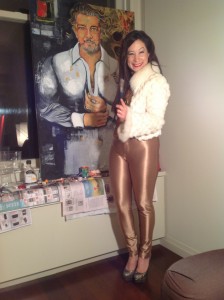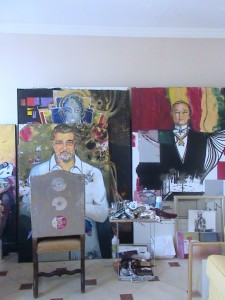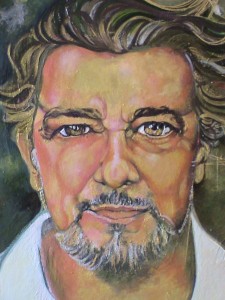 PARIS 2008
Maria -Veronica Leon V, ou « l'art de tirer le portrait »
Peu d'artistes contemporains osent ce qui ne se fait pas. Maria – Veronica Leon provoque les esprits… L'artiste se réapproprie un genre pictural tombé en désuétude, le portrait.
Comme Ingres, elle ne touche pas à la psychologie de ses modèles comme lui, à en croire Baudelaire, elle pense « que la nature doit être corrigée, amendée; que la tricherie heureuse, agréable, faite en vue du plaisir des yeux, est non seulement un droit, mais un devoir. » « Je veux qu'ils se découvrent différents,je veux les sortir de leur quotidien, je les relance ! » dit –elle.
Elle leur invente alors un environnement aux dimensions insoupçonnées, leur crée une « vie nouvelle » dans et pour la peinture. Dans cette perspective plus ouverte de concevoir l'art du portrait, elle se permet de transformer son modèle en personnage mythologique et du même coup de son statut de genre mineur « l'art de tirer le portait » devient chez elle une peinture au sens large du terme, une peinture aux multiples histoires, une mythologie.
Le cycle des toiles représentant la Duchesse de Galliera est exemplaire. La célèbre mécène des arts génoise interprétée par l'artiste devient l'héroïne d'une véritable épopée qui traverse les âges.
Maria Veronica Leon peint ses amis, célébrités, mères avec leur fille… Cernée à plat et de face.
Chacune de ses effigies est intimement liée à un espace pictural qui lui est propre. Des formes rondes et fertiles traversent les corps, géométries incaïques, constructivistes, rythmiques obtenues par des couleurs fauves.
Les symboles comme des écritures cabalistiques dont seules les initiés en connaissent le sens secret peuvent occuper la toile entière transcendant la figure.
Des huiles, collages, acryliques, images de synthèse, peut importe le matériau, c'est le résultat qui compte.
Impunément allégorique et cosmique s'inspirant de la nature qu'elle dénature, puisant dans son psychisme, prenant à la bande dessiné ce dont elle a besoin, sa peinture est une peinture esthétiquement transgressive. Et par surcroît une peinture de femme sud américaine ce qui met du feu sur l'huile et du sel dans les épinards, la joie et le tragique d'un baroque réinterprété.
Les motifs floraux sur la robe de la Duchesse de Galliera les colliers semblables aux algues marines, effets de pierreries et coquillages pour le portrait de Philippe Ferrari …
Elle aime les caméléonades…Maquillages, étoffes, toilettes très simples, parfois savamment ajustées, dentelles vaporeuses cachent, enveloppent, métamorphosent le modèle. En guise de collages, il lui arrive d'utiliser des C.D.
De leur éclat clinquant comme des agaçantes et provocatrices mosaïques contemporaines ces matériaux usuels prennent la lumière irritant le spectateur.
La démonstration ostentatoire de ce mundus muliebris la rapproche de Léonore Fini. Sphinge sombre et extatique Léonore Fini appartient déjà à l'histoire tandis que Maria – Veronica Leon invente un monde post contemporain au rythme trépidant de la techno.
Dans l'un de ses autoportraits auquel elle lui a donné le titre exotique de «La Emperadora de China » elle se présente torse nue, assise dans la position de lotus, sauvage, moitié verte et moitié rouge, extravagante crâneuse. Elle porte une cravate, fend son tableau parce qu'en révolte contre le milieu conventionnel dans lequel elle a grandi, parce qu'elle est autrement de ce que l'on peut penser d'elle, parce qu'elle est avant tout une peintre et une femme libres !
Comme Klimt elle aime l'or. Pour le peintre Autrichien, l'éclat de ce métal précieux rappelle Byzance. Pour Maria -Veronica Leon la spiritualité Incas, la lumière de la Cordellière des Andes, la dimension solaire dont elle auréole ses personnages. Ils nous regardent droit dans les yeux altiers et morganatiques ou bien souriants, comme pour poser, toujours en représentation jamais à l'abandon.
La dimension amoureusement humaine de l'art de Maria – Veronica Leon on la retrouve dans ses dessins. Elle exécute des masques et des portraits admirables.
Son dessin semble avoir été prit à la dérobade non seulement à une autre expression artistique, mais à l'une de plus grandes danseuses contemporaine qu'elle a longtemps accompagné dans ses tournées, Pina Bausch.
Sur des petits formats sur papier, le stylo-bille glisse au fil d'un trouble naissant. L'indicible silence du corps s'évapore un peu comme dans le pointillisme de Seurat. Des corps qui s'étirent dans la beauté et le désir puis se replient sur eux-mêmes. Ils souffrent peut-être, d'autre fois expulsent l'énergie de la vie, jouissent se laissent regarder, adorés.
La justesse des corps en mouvement rappelle le sublime Degas, proche lui aussi de danseuses de leur jeunes corps malléables.
Je n'ai pas parlé des performances, des vidéos du vaste répertoire visuel de cette artiste équatorienne. Ni de sa vie et de ses voyages et de ses rencontres exceptionnelles. Une prochaine fois, peut-être… Peu d'artistes contemporains
sont habités par la conviction d'accomplir à travers leur art une mission destinale, c'est salutaire !
Ileana Cornea Paris mars 2008
Critique d'art et curateur
No Comments